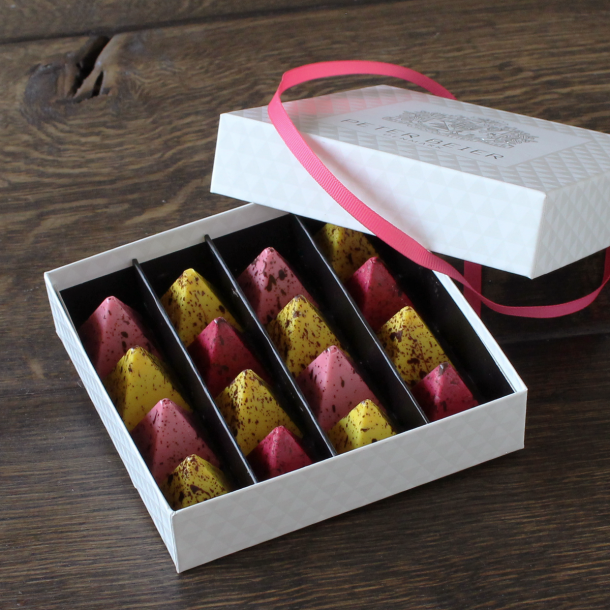 ---
Our delicious summersweets are the most irresistible summer chocolates.
The beautiful pyramid-shaped chocolates are available with a sweet strawberry truffle, a fresh raspberry truffle and a sour passion truffle - call it the taste of summer.
Contains 16 dessert chocolates - summersweets
8 x passion truffle
4 x strawberry truffle
4 x raspberry truffle

Net weight: 160-170 g.
Ingredients: sugar, cocoa butter, milk powder, cocoa mass, glucose, syrup, passion paste, freeze-dried strawberries, freeze-dried raspberries,
Color: E100, E120, vanilla aroma. (72.5% cocoa solids content in dark, 28% in white chocolate).
Emulsifier: sunflower / soy lecithin.
Nutritional content per 100g:
Energy: 541/2264 kcal / kj
Fat: 36g
Of which saturated fatty acids: 19.3 g
Carbohydrate: 45g
Of which sugars: 43.5g
Protein: 6g
Salt: 0.1g