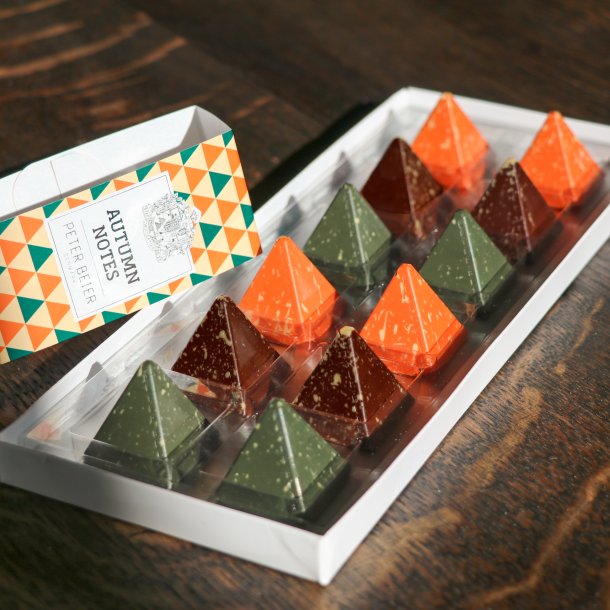 ---
Our delicious Autumn Notes box consists of 12 delicious autumn pyramids filled with orange nougat, mint and coffee - completely irresistible and full of flavour.
Ingredients: sugar, cocoa mass, cocoa butter, milk powder, hazelnuts, coffee, white chocolate with caramel (2%), veg. fat (olive, sunflower), fat-reduced cocoa powder, dextrose, glucose, syrup, peppermint oil, orange oil, sugar syrup, milk sugar, salt.
E100, E122, E133, E122
(72.5% cocoa solids content in dark, 35.5% in milk chocolate, 28% in white chocolate).
Emulsifier: sunflower/soy lecithin, vanilla aroma.
Net weight: 115-120G
Storage: 16-20°C 40-60% humidity
Nutritional content per 100g:
Energy: 540/2259 kcal/kj
Fat: 36g
Of which saturated fatty acids: 24.7 g
Carbohydrate: 47g
Of which sugars: 45.9g
Protein: 6g
Salt: 0.1g